We are delighted to announce that two of our innovative, new resources have been shortlisted as finalists at the Innovation Excellence Awards 2022. Both Glow and Go Bot and Kitt, the Learning Companion, are amongst the list of innovations that have been shortlisted in this year's awards in the Product Design category. 
 
Within this category, the judges were looking for innovations that improve experiences for customers and communities, help move the dial on inclusion and diversity, and address the sustainability agenda.
Glow and Go Bot:
Glow and Go Bot is a multi-sensory, rechargeable robot, ideal for laying firm foundation and technology skills. The highly interactive, engaging robot has simple, clear and literal controls that, when pressed, are tactile, colourful, illuminated and create sounds, enabling the child to make multi-sensory connections. It is aimed at enabling the curious, investigative child to experiment, explore and make discoveries independently.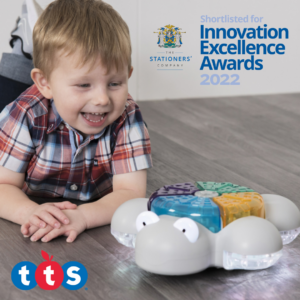 Kitt the Learning Companion:
Kitt is a versatile, cross-curricular, inclusive companion robot for the classroom aimed to develop 21st Century Learning skills. 
Kitt enables learners to work independently, engaging with the robot to gather evidence of progress. Teachers can differentiate effectively using Kitt by personalising the resources on each device.

What are the Innovation Excellence Awards? 
The Innovation Excellence Awards are commissioned by the Stationer's Company, recognising the key role the Communications and Content industries play in the UK economy. The awards highlight outstanding innovation and offer the opportunity to share best practices. 
For the first time this year, the Awards will be co-chaired by Jill Jones and Professor Linda Drew, former Vice-Chancellor of Ravensbourne University. 
There are six award categories in total as well as an overall 'Innovator of the Year' who is chosen from the winners of each category. The 2022 award categories are: 
• Business Process 
• Communications and Marketing 
• Customer Experience 
• Product Design 
• Service Development 
• Start-ups
The prestigious awards ceremony will take place on Tuesday 13th of September 2022 where the winners will be announced for each category. Find out more about our award-winning resources here.